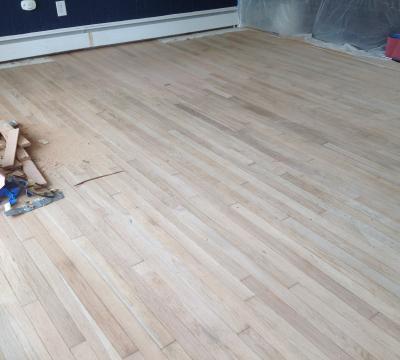 The photos you see above were taken after the repair was completed after the floor had been dyed and after the last layer of polyurethane had been applied to it.
This client is a Real Estate Agent in Ocean City, NJ 08226, who purchased a home for himself and his wife and then ripped up the carpets in the house to make it more comfortable. In the images, you can see that all the hardwood floors were painted white, and we had to repair water damage that had occurred in the living room.
After going through everything with the customer, I stated to him and his wife that we could complete the repair but that I was sure of what we would find beneath the white paint. They were both relieved it was Joe Carfagno, the owner who does your job. He is the best, and when an estate agent calls, you need the best.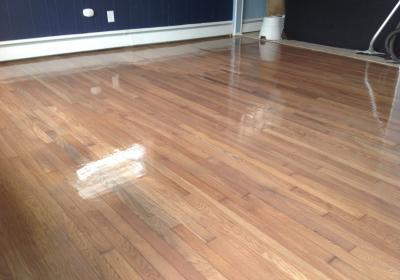 Why Floor Refinishing is Best in Ocean City, NJ 08226
If you live in an older home, there was a time when people painted their hardwood floors. However, there was also the possibility that there were many paint stains, and the previous owner couldn't afford to repair or replace the floor, so they just painted the hardwood floors.
They knew they were taking a risk, but they will take it. We also talked about dyeing the floor because they wanted their home to have a beachfront feel. So the idea for this hardwood floor refinishing project in Ocean City, NJ 08226 was to repair the damage, sand the floor, stain the floor with a weathered oak stain, and apply two coats of 100 percent oil-based polyurethane to finish the floor.
This project was more akin to a wood floor restoration, and the results were just stunning. The color of this stain has quickly become one of my new favorites. The "weathered driftwood look," which this stain creates, is trendy among interior designers. This stain first appears gray when applied, but as you work your way through it, the stain changes color to reveal browns and grays in the wood beneath the surface.
As you can see in all these photographs, their old oak floors have been beautifully restored. This job turned done well, and our client was pleased with the results.
Extreme Floor Care Refinishing & Staining Assurance
You can be confident that your belongings are cared for, so your home is safe. We will always make sure everything is locked up and secured. We do NOT hire sub-contractors or day laborers. We will always be the company where the owner does your job.
Angie's List announced that Extreme Floor Care just won the prestigious Super Service Award in all three hardwood categories - refinishing, installation & cleaning! You can now go on Angie's list and become a member for FREE and check out our testimonials there and on YELP. Angie's List has given us a perfect score.
To ensure you have the best experience in floor repair, you can contact Extreme Floor Care direct or call us today at 609-272-9173, and one of our professionals will help you with questions regarding hardwood floor refinishing or hardwood floor repair.
Hardwood flooring deserves the care and attention Extreme Floor Care offers to every customer.
You can also see positive reviews on Yelp for an idea of what you can expect this year with the best in the business carrying out your hardwood floor finishing.