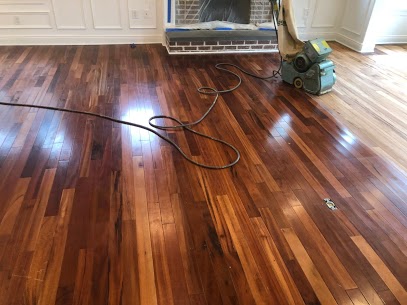 We were called for a real estate agent after we had previously done a floor for him. You can see the photo above of the floor that we were going to finish.
This is a Tiger Wood Floor we just finished for a real estate agent in Ocean City, NJ 08226, who just put his home for sale. The floor had faded, scraping, and wearing.
This was a 2-day job, and our customer loves his floor. It was a couple of years earlier when we made floors for his son in Ocean City, and even then, he came back for a second time to seek our services.
Tiger Wood Floor Finishing Day 2
The second day when the magic happens in Ocean City, you can see the sheen on the floor as it's still wet. It was a tigerwood floor and the building, which is SPECTACULAR, was going up for sale.
There were lots of marks and wear on the floor that couldn't be touched without sanding.
We did full sand, natural seal coat, and two coats of Vermont water-based polyurethane. It was two days' work, and the customer loves the floor.
We don't hire subcontractors or day workers. We are still the business in which the owner does the work.
Many people are worried about allowing Ocean City, NJ 08226 hard floor contractors to remain in their homes while they aren't there; when you hire us your belongings are being looked after your home is safe.

Extreme Floor Care Services in Ocean City, 08226
Not only does Extreme Floor Care refinish hardwood floors, but we also install many prefinished hardwood floors, including wood floors from Mirage, Mannington, Armstrong, and Bruce. If you don't want to have pre-finished, we also install, refinish and paint raw hardwood floors and fix hardwood floors.
We put client satisfaction at Extreme Floor Care; first, our business has credibility and is reliable; that's why Joe Carfagno, the owner of Extreme Floor Care, does your job; he's the best at what we do. Every time you get quality results.
Once we're done, we leave the site clean, and everything will be locked and secured.
To ensure you have the best experience in floor repair in Ocean City, NJ 08226., you can contact Extreme Floor Care direct or call us today at 609-272-9173, and one of our professionals will help you with any questions regarding hardwood floor refinishing or hardwood floor repair.
Hardwood flooring deserves the care and attention Extreme Floor Care offers to every customer.
Check our reviews on Angie's List announced Extreme Floor Care just won the prestigious Super Service Award in all 3 hardwood categories - refinishing, installation & cleaning! The categories we have won for several years.
You can also see positive reviews on Yelp for an idea of what you can expect this year with the best in the business carrying out your hardwood floor finishing.