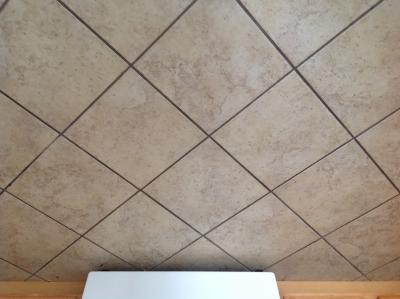 For cleaning tile and grout, pay attention to the room's boundaries, as this is where you'll start noticing a color difference. Extreme Floor Care can clean your grout professionally if it is darker in the center of the room. If you have a ceramic tile that appears to be discolored, it should be professionally cleaned as well.
As you can see in the before pictures, there is a texture or pitting, and you see black in the pits, don't worry; it's widespread, and people notice.
Joe is the owner who does your job, and you do not need to worry. He is the best in the industry.
He worked side to side on this floor, and as always, the water settling in the pits. There is no way to prevent this from happening, and the only solution is having Extreme Floor Care clean and seal your tile and grout every couple of years.
The grout then acts as a sponge, allowing the dirty water to soak into it. Having your grout sealed will prevent this from happening, and the sealer will last for a couple of years.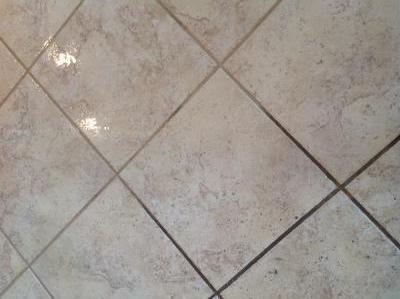 When you hire Extreme Floor Care to clean your tile and grout, have your grout sealed simultaneously.
With all of the new and beautiful tile options available today, most people opt for larger tiles. The textured tile, which I love, is one tile I see in many homes, but once you live with it, the pitting will become black.
When you seal the grout, the dirty water sits on top of it, and the grout no longer acts like a sponge; unfortunately, you can't prevent the pitting from settling the muddy water.
Extreme Floor Care Tile and Grout Cleaning
Joe did an outstanding job, and the client was thrilled Joe, the owner doing your job, didn't let him down.
We love making sure all of our clients are thrilled with their jobs because we take great pride in our work. You can call Extreme Floor Care for FREE in-home estimates and advice 7 days a week from 8 am to 10 pm at 609-272-9173. You can also visit our website at www.extremefloorcare.com for more before and after projects we have done; look under the article's tab.
We serve South Jersey regions, and you can find our New Jersey Contractors license on our new web page.
At Extreme Floor Care, we put customer satisfaction; first, our Company has integrity and is dependable. That is why the Owner of Extreme Floor Care, Joe Carfagno, is doing your job; he is the best at what we do. You will get quality results every time.
We will always make sure everything is locked up and secured and don't hire subcontractors or day laborers.
To ensure you have the best tile and grout cleaning experience in Ocean City, NJ 08226, you can contact Extreme Floor Care directly or call us today at 609-272-9173, and one of our professionals will help you with questions regarding hardwood floor refinishing or hardwood floor repair.
Tiled flooring deserves the care and attention that Extreme Floor Care provides to its customers.
Check out Angie's List to see what people are saying about us. Extreme Floor Care recently received the prestigious Super Service Award in all three hardwood categories: refinishing, installation, and cleaning. We've won these categories for several years.
Positive Yelp reviews can also give you an idea of what to expect this year when you hire the best business to finish your hardwood floors.