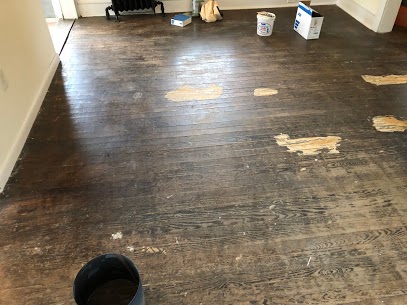 If there are some jobs you'll never forget, then this pine floor we were asked to do in Somers Point, NJ 08244, was one of them.
Our new client used to have carpet and did what's best and get rid of it. Underneath was this grubby dark stained 5/16ths floor. Like any wooden floor, it has potential, but getting down to that stage is tricky.
Luckily, the customer called Extreme Floor Care and got the best guy in the industry. Joe Carfagno is the best, and if anyone could revive this old battered floor, then he's the man.
It took some foresight on the customer's behalf to spot that her floors could be revived. Joe got to work and spent ages sanding to a raw state where none of the dark patches remained.
With final sand to get the finish, Joe, the owner who does your job, used a sealing coat and then gave a couple of coats of polyurethane to offer lots of protection. It may not appear shiny as the floor had plenty of time to dry.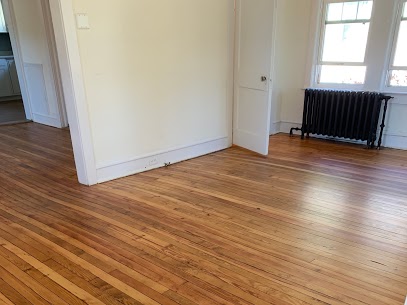 In this couple of pictures, you can see how rough the floor was and how it came out in the end. Our client was thrilled with the results. We love making sure all of our clients are thrilled with their jobs because we take great pride in our work.
You can call Extreme Floor Care, in Egg Harbor Township, NJ 08234, for a FREE in-home estimate and advice seven days a week from 8 am to 10 pm 609-272-9173.
You can also visit our website at https://www.extremefloorcare.com/index.htmlfor more before and after projects, we have done, look under the articles tab.
Our New Jersey Contractors license is at the bottom of our main web page. If you hire us to do your job, our insurance company will email you a copy of our insurance and workmen's comp.
As a client who hires us to refinish or install your hardwood floors, we send pictures of the work's entire process as it's being done.
You will find this the personalized touch none of our competitors provides; we do this, so they can be addressed immediately if you have questions. We are also rated extremely high on Angie's List.
Extreme Floor Care not only refinishes hardwood floors, but we also install many pre-finished hardwood floors, including Mirage, Mannington, Armstrong, and Bruce wood floors. If you don't want pre-finished, we also install raw hardwood floors, refinish and stain them, and do hardwood floor repairs.
Angie's List announced that Extreme Floor Care just won the prestigious Super Service Award in all 3 hardwood categories - refinishing, installation & cleaning! You can now go on Angie's List and become a FREE member and check out our testimonials there and on YELP.
Check our reviews on Angie's List announced Extreme Floor Care just won the prestigious Super Service Award in all 3 hardwood categories - refinishing, installation & cleaning! The categories we have won for several years.
You can also see positive reviews on Yelp for an idea of what you can expect this year with the best in the business carrying out your hardwood floor finishing.