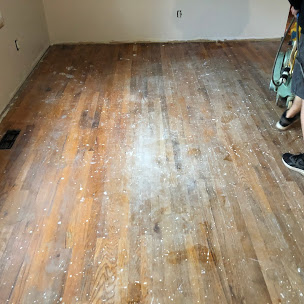 As you can see from these before and after pics, Joe had a tough job to deal with. The job was an old Oak Floor we refinished in Egg Harbor Township, NJ 08234. The owner of this fantastic house had renters in his home for ages, and this was the result.
Joe set about and gave the floor full sand to a raw state. Luckily, the owner is doing your job as Joe Carfagno is the best hardwood floor refinishing expert in the industry. Extreme Floor Care work wonders, as you can see in the before and after pictures.
Once the floor had been sanded twice, we removed all traces of dust and applied one coat of a natural seal coat.
The second day was when Joe and his team set about sealing the wood with two coats of Vermont water-based polyurethane. As we said, the owner was delighted as he could sell his home on time.
Rightly so, the new owner didn't want to replace any of the boards as they would have also looked out of place. Joe is the owner and the one that does your job; he's fully insured and workman's comp.
The owner was thrilled once we had finished because he was on a schedule and was getting ready to put it on the market.
It was a fantastic home, and now it is a beautiful home with floors that will last new owners for years.
Remember, if you are selling a home and have real hardwood under your carpet, have them refinished because everyone wants beautiful hardwood floors, and it means more money in your pocket!
If you have flooring in the same sort of condition, you can quickly contact Extreme Floor Care in Egg Harbor Township, NJ 08234, for a FREE in-home estimate and advice seven days a week from 8 am to 10 pm 609-272-9173.
You can also visit our website at https://www.extremefloorcare.com/index.htmlfor more before and after projects, we have done, look under the articles tab.
We serve South Jersey, mainly concentrating on Atlantic County and Cape May County. Our New Jersey Contractor's license is at the bottom of our main web page.

Extreme Floor Care Guarantee
We put customer satisfaction; first our company has integrity and is dependable; that is why the Owner of Extreme Floor Care, Joe Carfagno, is doing your job. He's the best, and he'll get quality results every time.
Many people have concerns about allowing contractors in their homes when they aren't there; when you hire us, you can be confident that your belongings are cared for.
We always make sure everything is locked and secured. We do NOT hire sub-contractors or day laborers. We will always be the company where the owner does your job.
Angie's List announced that Extreme Floor Care just won the prestigious Super Service Award in all 3 hardwood categories - refinishing, installation & cleaning! You can now go on Angie's List and become a FREE member and check out our testimonials there and on YELP.
Check our reviews on Angie's List announced Extreme Floor Care just won the prestigious Super Service Award in all 3 hardwood categories - refinishing, installation & cleaning! The categories we have won for several years.
You can also see positive reviews on Yelp for an idea of what you can expect this year with the best in the business carrying out your hardwood floor finishing.