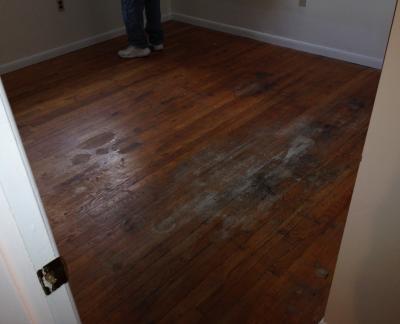 The pictures you see here are the state of one room full of pet stains in the wood. The customer was remodeling quite a lot of the home, and they faced a floor that had such abuse.
For this instance, this client got our name from a friend who had us refinish their floor in Wildwood, NJ.
I met the couple and could see the extent of the work they were doing. They'd widened the opening and added extra bathrooms.
When they were ready for wood floor refinishing in Cape May, NJ 08204, they needed to hide the pet stains yet didn't want the floors stained to keep it natural and have a satin finish for the polyurethane. I explained, we are the company where the owner does the job, and Joe is the best in the business.
All clients have the choice of satin, semi-gloss or glossy, although Joe may advise otherwise if the wrong choice is made.
When Joe started the floor on day one, he sanded it three times before there was no trace of the dark pet stains in the wood. Following a quick clean-up, he and his team applied the natural seal coat.
After drying, they applied the first coat of polyurethane. Day two and the floor were screened before applying the second and final coat of satin polyurethane.
Like other floors, it would be dry on the following day, and Joe advises all customers to avoid moving furniture back for 72 hours.
Being on the beach, like any hardwood floor, it is recommended to use pads under furniture to avoid scratches.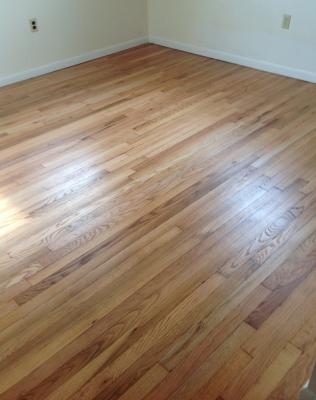 Extreme Floor Care Promise
Finally, the clients came to check the finished floors. I spoke to them on the phone, and the owner said his wife was giddy with excitement as the floors were nothing like they used to be.
As with this customer's job, you can visit the website and check out before and after pictures for all floor care types. You'll also spot countless testimonials of happy customers. Head to www.extremefloorcare.com to review the hundreds of jobs we've done.
We love making sure all of our clients are thrilled with their jobs because we take great pride in our work. You can call Extreme Floor Care for FREE in-home estimates and advice 7 days a week from 8 am to 10 pm at 609-272-9173. You can also visit our website at www.extremefloorcare.com for more before and after projects we have done; look under the article's tab.
We serve South Jersey regions, and you can find our New Jersey Contractors license on our new web page.
To ensure you have the best experience in floor repair in Avalon, NJ 08202., you can contact Extreme Floor Care directly or call us today at 609-272-9173, and one of our professionals will help you with questions regarding hardwood floor refinishing or hardwood floor repair.
Hardwood flooring deserves the care and attention that Extreme Floor Care provides to its customers.
Check out Angie's List to see what people are saying about us. Extreme Floor Care recently received the prestigious Super Service Award in all three hardwood categories: refinishing, installation, and cleaning. We've won these categories for several years.
Positive Yelp reviews can also give you an idea of what to expect this year when you hire the best business to finish your hardwood floors.