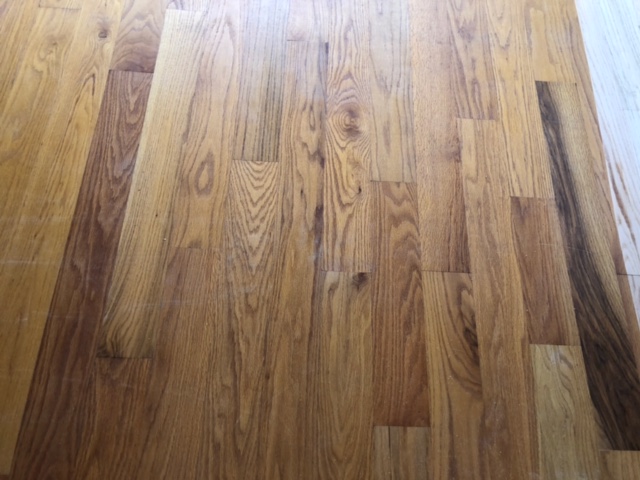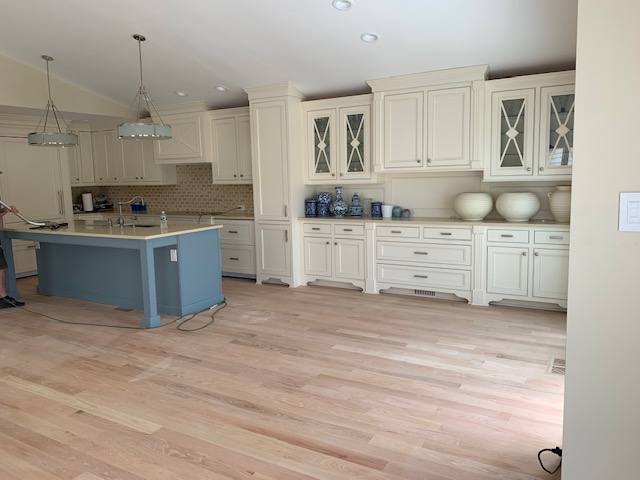 This is a residence in Longport, NJ 08403 that our new client just purchased. The floors were gorgeous red oak and had been stained orange, brown.
The new homeowner wanted the floors lighter, so we went with a water-based seal coat and a commercial water-based polyurethane.
To add the finishing touch, the homeowner wanted a smooth floor that has a glossy sheen. As you can see in the pictures, the floors are still wet, which adds to the super-glossy appearance. In addition, we replaced the previous venting system with flush-mount vents to increase airflow and make the vents sit out of the way.
You will see in all these pictures her red oak floors came out beautiful in Longport, NJ 08403.
Our client was pleased with the conclusion of the task that Joe Carfagno, "The Owner Who Does Your Job," and Extreme Floor Care did on her home, and the kitchen turned out fantastic.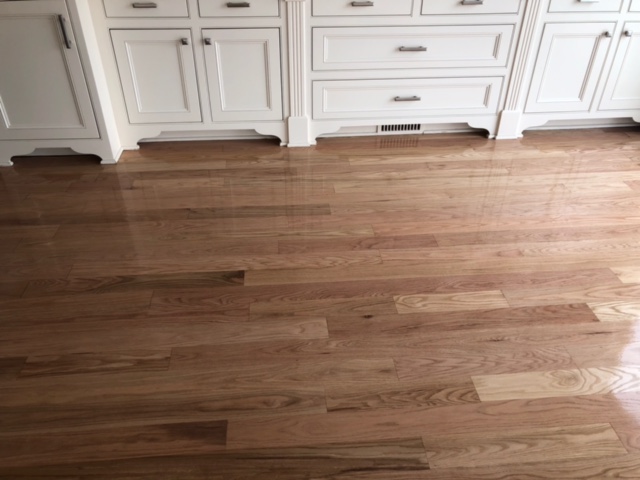 Extreme Floor Care Commitment
It's in our nature to make sure that all our clients are happy with their jobs, and we take great pride in what we do.
You can call Extreme Floor Care in Egg Harbor Township, NJ 08234 for a FREE in-home estimate and advice seven days a week from 8 am to 10 pm at 609-272-9173. You can also visit our website at www.extremefloorcare.com for more before and after projects we have done; look under the articles tab.
You can also look at the video's tab and see the owner sanding a floor. We also provide a consumer awareness guide for reading about hardwood floors on our main web page. We serve South Jersey, mainly concentrating on Atlantic County and Cape May County.
Our New Jersey Contractor's license is at the bottom of our main web page. If you hire us to do your job, our insurance company will email you a copy of our insurance and workmen's comp. As a client who hires us to refinish or install your hardwood floors, you will get pictures of the entire process of the work as it is being done; that is a personalized touch that none of our competitors provides; we do this so if you have questions, they can be addressed immediately. We are also rated extremely high on Angie's List and have won the "Super Service Award" in the last six years.
Extreme Floor Care not only refinishes hardwood floors, but we also install many pre-finished hardwood floors, including Mirage, Mannington, Armstrong, and Bruce wood floors. If you don't want pre-finished, we also install raw hardwood floors, refinish and stain them, and do hardwood floor repairs. We also install luxury vinyl tile.
To ensure you have the best experience in floor refinishing, you can contact Extreme Floor Care direct or call us today at 609-272-9173, and one of our professionals will help you with questions regarding hardwood floor refinishing or hardwood floor repair.
Hardwood flooring deserves the care and attention Extreme Floor Care offers to every customer.
You can also see positive reviews on Yelp for an idea of what you can expect this year with the best in the business carrying out your hardwood floor finishing.