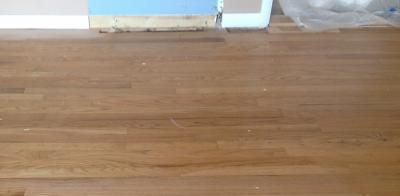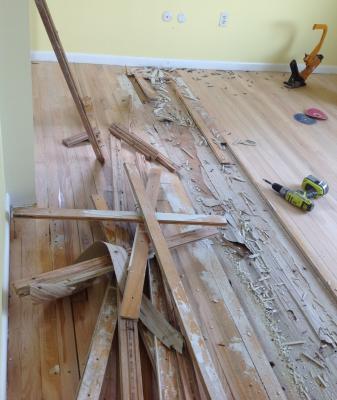 The images you see here are of a set of floorboards that were in terrible shape. Avalon Carpet & Tile in Ocean City, NJ 08226, provided our contact information to the client.
They were new to the area and had recently purchased a home that they were renovating.
I met with the client and provided them with a quote for the work they wanted to be done. The carpets were still on the floor when I met with them to give them a wood floor refinishing estimate, and they were removing a portion of them because they knew there was a wood floor underneath. So far, so good, even with the carpet on one floor still in place.
I measured everything and gave them a quote to refinish the red oak floor beneath the carpet.
Everything was fine, so they called to schedule Extreme Floor Care to complete the work as planned. However, there was a horrible surprise once the carpet was removed from the floor.
The floor was about half-removed, and there was also a minor repair in another room. They had the steps refinished because we needed to make a threshold between the living room and the kitchen.
We were asked to refinish the treads on the stairs, and they planned to paint the riser white. The repairs were completed, and the floor was sanded three times before receiving a natural seal coat and two coats of 100 percent Dura Seal oil-based polyurethane.
Luckily for this young couple, it is the owner doing your job, and Joe is the best in the industry. The couple was delighted that there was no sign of the damage after Joe and his team had finished. It was a long job, but the results speak for themselves.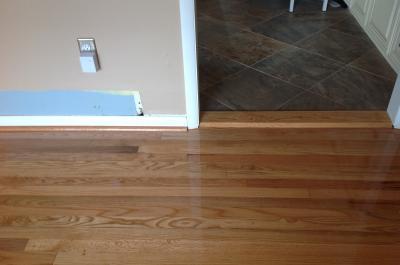 Where to Find Ocean City, NJ 08226 Floor Repair
You can call Extreme Floor Care for FREE in-home estimates and advice 7 days a week from 8 am to 10 pm at 609-272-9173.
To ensure you have the best experience in floor repair in Avalon, NJ 08202., you can contact Extreme Floor Care directly or call us today at 609-272-9173, and one of our professionals will help you with questions regarding hardwood floor refinishing or hardwood floor repair.
At Extreme Floor Care, we put customer satisfaction; first our Company has integrity and is dependable. That is why the Owner of Extreme Floor Care, Joe Carfagno, is doing your job; he is the best at what we do. You will get quality results every time.
Check out Angie's List to see what people are saying about us. Extreme Floor Care recently received the prestigious Super Service Award in all three hardwood categories: refinishing, installation, and cleaning. We've won these categories for several years.
Positive Yelp reviews can also give you an idea of what to expect this year when you hire the best business to finish your hardwood floors.