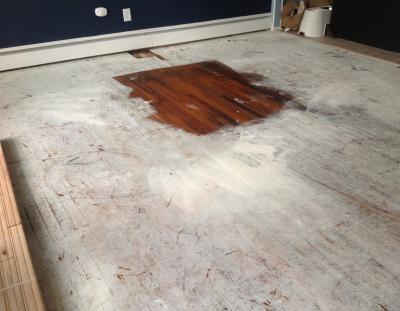 Doing this job was especially important as the client was a Real Estate Agent in Ocean City, NJ 08226. He bought this home for his wife and him, intending to rip up all the carpets.
When you rip up carpets, you never know what to expect, yet the white paint was extreme, as you can see here. Besides this, there was also a repair that needed doing from water damage, so this was vital to ensure no rot or mold would set in.
Luckily, the estate agent knows all about Joe, the owner who does every job and has every confidence the floors would be finished to Joe's exacting standards.
After explaining there could be anything sitting under the paint, he was happy for Joe to get to work and find out.
We also discussed staining the floor because they wanted a beachhead to feel like the home. The plan for this hardwood floor refinishing project in Ocean City, NJ 08226 was to fix the repair, sand the floor, then stain the floor a weathered oak and apply two coats of 100% oil-based polyurethane.
This project was more like a wood floor restoration, and they came out gorgeous.
When applied, this stain goes on grey and as you are using it, the stain changes color to have browns and grey in the wood. You will see in all these pictures their old oak floors came out beautiful. As always, the client was super thrilled with Joe's work.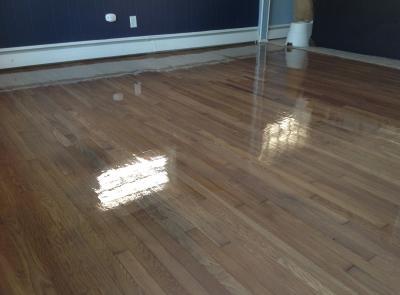 Where to Find Hardwood Floor Repair Ocean City, NJ 08226
You can call Extreme Floor Care for FREE in-home estimates and advice 7 days a week from 8 am to 10 pm at 609-272-9173.
To ensure you have the best experience in floor repair in Ocean City, NJ 08226, you can contact Extreme Floor Care directly or call us today at 609-272-9173, and one of our professionals will help you with questions regarding hardwood floor refinishing or hardwood floor repair.
At Extreme Floor Care, we put customer satisfaction; first, our company has integrity and is dependable. That is why the Owner of Extreme Floor Care, Joe Carfagno, is doing your job; he is the best at what we do. You will get quality results every time.
Check out Angie's List to see what people are saying about us. Extreme Floor Care recently received the prestigious Super Service Award in all three hardwood categories: refinishing, installation, and cleaning. We've won these categories for several years.
Positive Yelp reviews can also give you an idea of what to expect this year when you hire the best business to finish your hardwood floors.