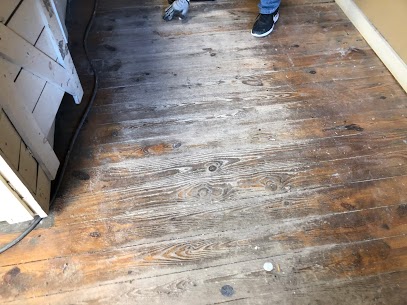 You can see the before picture of a pine floor we sanded raw in Cape May, NJ 08204. It was just over 12 months since we completed the job, and the owner is still proud of it to this day.
It pays to have the owner do your job as you can expect the very best, and Joe Carfagno is the best in the industry. Results and word of mouth speak for themselves. We are a local company that has been in business for over 25 years.
Joe was full of advice, and since then, the customer followed this and still has a great floor, even though we have since then cleaned it for him.
Here's a few bits of advice that Joe from Extreme Floor Care gives to many customers about wooden floor care.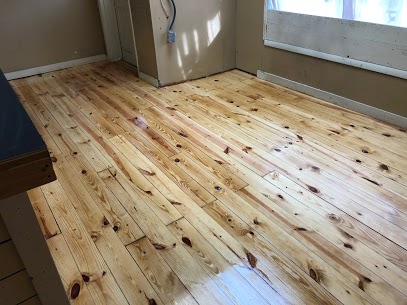 Don't Wear Shoes
You should resist wearing shoes on your hardwood flooring as this can quickly ruin your floor. If you wear high heels, these add lots of weight on the heel, and easily dent the surface of your floor in a small area. Besides, you can not just dent the boards, you can easily chip or scrape them as well.
To safeguard your flooring investment, make sure no one wears shoes containing cleats, or shoes or boots with hard areas on the soles on your finished hardwood floor.
Pad furniture
Like heels of shoes, your furniture can easily scratch and dent the surface on a finished hardwood floor. On the bottom of the legs and feet, use felt pads. You should also sweep your floor first, to be sure there is no grit or dirt that can catch the felt. If you move furniture, or it moves in use, you may need to change your pads from time to time.
Use Rugs
Place doormats or rugs wherever possible, and if you're always standing or using a particular part of your room with a finished hardwood floor, try using a rug or mat in that area. Using doormats can help to eliminate the number of particles that could find their way into your home.
Extreme Floor Care Guarantee
At Extreme Floor Care, we put customer satisfaction; first, our company has integrity and is dependable, that is why the Owner of Extreme Floor Care, Joe Carfagno, is doing your job; he is the best at what we do. You will get quality results every time. Many people have concerns about allowing contractors in their homes when they aren't there; when you hire us, you can be confident that your belongings are cared for, so your home is secure. We will always make sure everything is locked up and secured. We do NOT hire sub-contractors or day laborers. We will always be the company where the owner does your job.
Angie's List announced that Extreme Floor Care just won the prestigious Super Service Award in all 3 hardwood categories for the past five years - refinishing, installation & cleaning!
You can now go on Angie's List and become a FREE member and check out our testimonials there and on YELP.
Check our reviews on Angie's List announced Extreme Floor Care just won the prestigious Super Service Award in all 3 hardwood categories - refinishing, installation & cleaning! The categories we have won for several years.
You can also see positive reviews on Yelp for an idea of what you can expect this year with the best in the business carrying out your hardwood floor finishing.