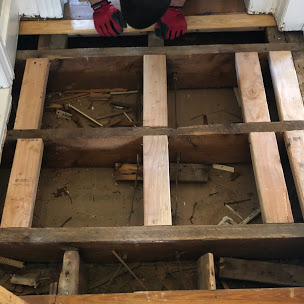 The images you see here are of a set of floorboards that were in terrible shape. It was right by the doorway at the end of a hall and top of the stairs and couldn't be in the worst place. There are so many variables here as you have the door jams to consider besides just the floorboards that need replacing.
Luckily, the owner had the highest confidence as it is Joe Carfagno, the owner of Extreme Floorcare, doing the job, and he is the absolute best in the industry.
You can see space after the floorboards were ripped up and the hole that needed to be covered.
I met the client and gave them the quote to repair and refinish the floor so the room and the hallway looked as close as possible as they could.
Joe got to work and spent the first day ripping out the rotten and replacing it. Days 2 and three were the polyurethane coating and the seal coat. It was a job well done, and the client was ecstatic with the outcome.
It put their mind at ease since there were no dodgy boards at the top of the stairs that were dangerous.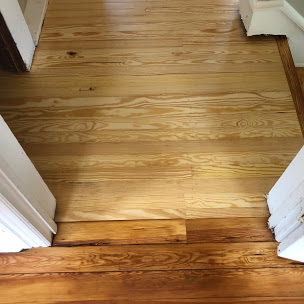 Where to Find Northfield, NJ 08225 Floor Repair and Refinishing
You can call Extreme Floor Care for FREE in-home estimates and advice 7 days a week from 8 am to 10 pm at 609-272-9173.
To ensure you have the best experience in floor repair in Avalon, NJ 08202., you can contact Extreme Floor Care directly or call us today at 609-272-9173, and one of our professionals will help you with questions regarding hardwood floor refinishing or hardwood floor repair.
At Extreme Floor Care, we put customer satisfaction; first, our Company has integrity and is dependable. That is why the Owner of Extreme Floor Care, Joe Carfagno, is doing your job; he is the best at what we do. You will get quality results every time.
Check out Angie's List to see what people are saying about us. Extreme Floor Care recently received the prestigious Super Service Award in all three hardwood categories: refinishing, installation, and cleaning. We've won these categories for several years.
Positive Yelp reviews can also give you an idea of what to expect this year when you hire the best business to finish your hardwood floors.