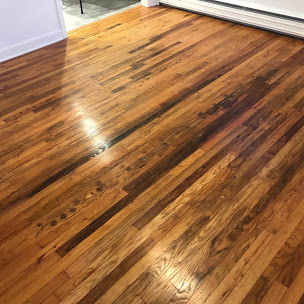 The pictures you see above are the before and after pictures of a floor, we just refinished and stained in Brigantine, NJ 08203. This client just purchased this home and hired us Extreme Floor Care to refinish and Stain their floors.
The client was thrilled with the new look. Call us today at 609-272-9173 or visit our website at www.extremefloorcare.com
When it comes to refinishing a hardwood floor, knowledge is power. Many contractors down here don't do quality work, and when you need them to go back and fix something, good luck!
If you go onto our website at www.extremefloorcare.com, we have a consumer awareness guide that you should read to ask the contractors the right questions. If you want your floors to have the same attention, you can contact us today on 609-272-9173 or visit our website at www.extremefloorcare.com
When you get quotes from contractors, you want to compare apples to apples, which is not always the case in hardwood floor refinishing. Any contractor down here who does quality work is fully insured and carries workman's comp and uses the quality product to be close in price.
There are contractors down here that are very cheap; well, you get what you pay for. If you hire a contractor, make sure their insurance company emails you a copy of their insurance. You never want to get it from the contractor because it may not be valid.
To ensure you have the best experience in floor repair in Brigantine, NJ 08203, you can contact Extreme Floor Care direct or call us today at 609-272-9173, and one of our professionals will be able to help you with any questions regarding hardwood floor refinishing or hardwood floor repair.
Hardwood flooring deserves to be treated right, so make sure you give it the proper treatment.
Check our reviews on Angie's List and see the category we have won for several years. You can also see positive reviews on Yelp for an idea of what you can expect this year with the best in the business carrying out your hardwood floor finishing.