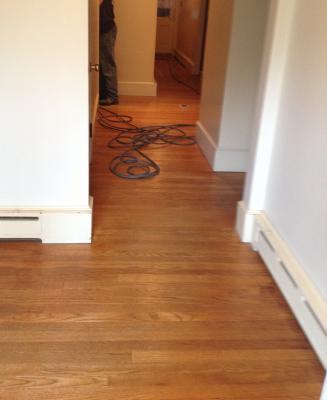 The before and after pictures show the hallway floor before and after hardwood floor refinishing. This is a hardwood floor refinishing project where the hardwood floors desperately needed work. There were areas of the floor where there was no longer any polyurethane, particularly in the living room.
When the client phoned Extreme Floor Care, I went out and went with her for a free in-home estimate and explained the full process of refinishing a hardwood floor.
We use bags on all the machines we use, and we clean up after ourselves. Sometimes the homes are cleaner after Joe Carfagno (the owner who does your job) and his crew is finished with your home.
When we refinish hardwood floors, we sand them three times, then apply either a natural seal coat or a sealer stain, followed by two coats of 100% oil-based polyurethane. The products we use are called Dura Seal, and the reason we use them is that they are made entirely of oil-based polyurethane, which means the scent goes away in about two days.
When we first started this job, we used a natural seal coat and a semi-gloss finish to refinish the living room, hallway, and two bedrooms. The floors turned out beautifully, as you can see in the before and after pictures. They were identical floors; the client couldn't believe it. These floors are made of red oak.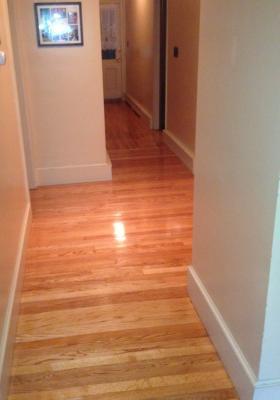 Extreme Floor Care Floor Refinishing Guarantee
Extreme Floor Care refinish and install all refinished hardwood floors, including Mirage, Mannington, Armstrong, and Bruce wood floors. We also install bare hardwood floors, refinish, stain them, and undertake hardwood floor repairs if you don't want them refinished.
You can be confident that your belongings are cared for, so your home is safe. We will always make sure everything is locked up and secured. We do NOT hire sub-contractors or day laborers. We will always be the company where the owner does your job.
Angie's List announced that Extreme Floor Care just won the prestigious Super Service Award in all three hardwood categories - refinishing, installation & cleaning! You can now go on Angie's list and become a member for FREE and check out our testimonials there and on YELP.
To ensure you have the best experience in floor repair, you can contact Extreme Floor Care direct or call us today at 609-272-9173, and one of our professionals will help you with questions regarding hardwood floor refinishing or hardwood floor repair.
Hardwood flooring deserves the care and attention Extreme Floor Care offers to every customer.
You can also see positive reviews on Yelp for an idea of what you can expect this year with the best in the business carrying out your hardwood floor finishing.