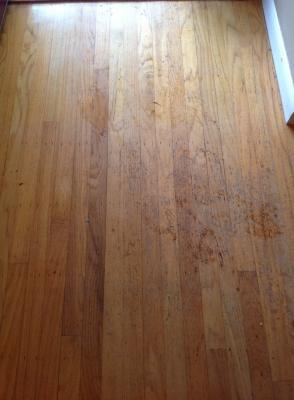 The pictures you see are a hallway we were asked to refinish and a living room. We were contacted by this client, who was desperate and received our number from Coast Tile & Marble supply in EHT, NJ, a great customer and supplier, and spread word of mouth.
It shows that having someone who knows the difference between doing a job to one that doesn't get results rather than many aggravations.
Meeting with the client, she showed me the hallway and her tiled areas. I gave her the rundown step by step of what we do.
She was so far happy and then showed the living room. Half was barely sanded and the other half not touched. A previous company said they couldn't do the job; the wood was in too bad a condition.
The floors had pet stains, yet Joe is the best, and once he got to work, he sanded and used a bleaching process. You can see why it's better to have the best rather than someone who thinks they are.
All in, Joe sanded the floor three times to get to a raw state where the stains were no more. He then applied a natural seal coat to stop the pet stains and applied two 100% oil-based Dura Seal polyurethane coats.
Many contractors like water-based polyurethane can finish quicker, yet it doesn't offer durability for years of foot traffic. However, using Extreme Floor Care, you can see that the red oak floor came out fantastic with more durable finish from the after picture.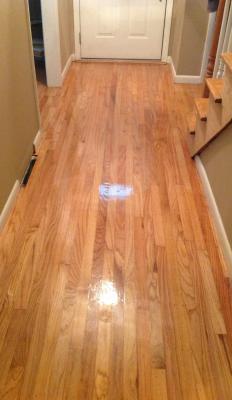 Hardwood Floor Refinishing Commitment
We love making sure all of our clients are thrilled with their jobs because we take great pride in our work.
You can call Extreme Floor Care for FREE in-home estimates and advice 7 days a week from 8 am to 10 pm at 609-272-9173.
You can also visit our website at www.extremefloorcare.com for more before and after projects we have done, look under the articles tab.
We also provide a consumer awareness guide to read about hardwood floors on our main web page.
We service most of South Jersey, mainly concentrating on Atlantic County and Cape May County. Our New Jersey Contractors license is at the bottom of our main web page.
If you hire us to do your job, our insurance company will email you a copy of our insurance and workmen's comp.
As a client who hires us to refinish or install your hardwood floors, you will get pictures of the work's entire process as it is being done, which is a personalized touch that none of our competitors provides.
We do this, so if you have questions, they can be addressed immediately. We are also rated extremely high on Angie's List.
Extreme Floor Care Assurance
You can be confident that your belongings are cared for, so your home is safe. We will always make sure everything is locked up and secured. We do NOT hire sub-contractors or day laborers. We will always be the company where the owner does your job.
Angie's List announced that Extreme Floor Care just won the prestigious Super Service Award in all 3 hardwood categories - refinishing, installation & cleaning! You can now go on Angie's list and become a member for FREE and check out our testimonials there and on YELP.
To ensure you have the best experience in floor repair in Avalon, NJ 08202., you can contact Extreme Floor Care direct or call us today at 609-272-9173, and one of our professionals will help you with questions regarding hardwood floor refinishing or hardwood floor repair.
Hardwood flooring deserves the care and attention Extreme Floor Care offers to every customer.
You can also see positive reviews on Yelp for an idea of what you can expect this year with the best in the business carrying out your hardwood floor finishing.