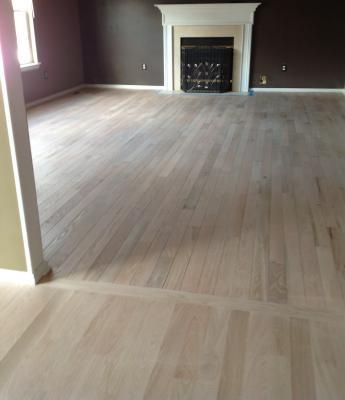 One of the most important jobs we did for a while was almost a week and took four days, yet the results will last for years. The pictures here show the family room, a pre-finished floor that was sanded raw and stained an English Red Oak.
We met with the homeowner and went over everything with them and went over the procedures that we would use for the Sanding, staining the hardwood, and then applying the polyurethane. The owner was well aware of Joe Carfagno; the owner doing their job and had heard good things.
Once we started the hardwood floor refinishing the whole 1st floor and the staircase and handrails, the family had to be out of the house for four days because they could not walk on the floors. We completed this job in 4 days.
The hardwood floor refinishing process is sanding the floor three times, hard, medium, and fine sand. Once the floor is ready, we applied a sealer stain called English Chestnut, which needed 12 hours to dry once used.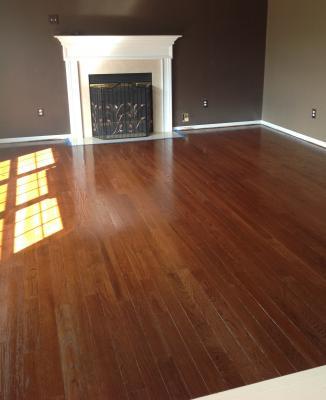 We then returned the next day to apply a coat of polyurethane. After this, we came back the following day and spread the last coat of polyurethane.
You can walk on the floors 6 to 8 hours after the job is complete and can bring furniture into the house 72 hours after we complete the job.
This family knocked down the wall between the kitchen and the formal dining room and made it into a massive kitchen.
The whole first floor had pre-finished hardwood, but when they enlarged the kitchen, a new raw red oak floor was installed, and we refinished everything at the same time. The pictures you will see in this article will show the pre-finished floors sanded raw and the new natural wood floors stained and refinished.
If you go to www.extremefloorcare.com, you'll find a customer awareness guide that will help you ask the right questions of the contractors. If you want the same level of treatment for your floors, call us at 609-272-9173 or visit our website at www.extremefloorcare.com.
You want to equate apples to apples while getting offers from contractors, which isn't always the case with hardwood floor refinishing. Any contractor that does quality work is wholly insured, carries workers' compensation, and uses a high-quality product.
There are some very inexpensive contractors down here; however, you get what you pay for. If you employ a contractor, request a copy of their insurance policy from their insurance provider. You could never get it from a contractor because it may be invalid.
Remember, if you're selling a house and natural hardwood under the carpet, you can get it refinished because everyone wants beautiful hardwood floors. After all, it means more money in your pocket!
If you have flooring in the same sort of condition, you can quickly contact Extreme Floor Care in Egg Harbor Township, NJ 08234, for a FREE in-home estimate and advice seven days a week from 8 am to 10 pm 609-272-9173.
You can also visit our website at https://www.extremefloorcare.com/index.htmlfor more before and after projects, we have done, look under the articles tab.
We serve South Jersey, mainly concentrating on Atlantic County and Cape May County. Our New Jersey Contractors license is at the bottom of our main web page.
Extreme Floor Care Guarantee Egg Harbor Township, NJ 08234
We prioritize customer loyalty, and our business is honest and dependable, which is why Joe Carfagno, the owner of Extreme Floor Care, is handling your work. He's the best, and he'll still deliver excellent results. Many people are hesitant to let contractors into their homes when they are not present; however, your belongings will be well taken care of when you employ us.
We make sure that everything is locked and safe at all times. We don't use day laborers or subcontractors. We will always be the business where the owner does the work. Extreme Floor Care has received the coveted Super Service Award from Angie's List in all three hardwood categories: refinishing, installation, and cleaning! You can now join Angie's List for free and read our testimonials there as well as on YELP.
Check our reviews on Angie's List announced Extreme Floor Care just won the prestigious Super Service Award in all three hardwood categories - refinishing, installation & cleaning! The categories we have won for several years.
You can also see positive reviews on Yelp for an idea of what you can expect this year with the best in the business carrying out your hardwood floor finishing.