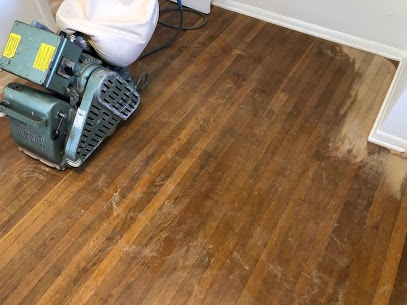 This is a before picture of an old 5/16ths face nailed oak floor we just refinished in Somers Point, NJ 08244. Once we'd made all the necessary repairs and made sure no nails were stood up and could catch the sander, Joe Carfagno set to work and proved again why he is the best at what he does.
This client called us and wanted to keep the original floor without having to have to replace it. It would have been the easy option, yet it would have been a waste of a great hardwood floor.
Many repairs needed to be done on this floor, which most of the first day. On day two, Joe sanded the floor to a raw state and took three goes to reach a suitable condition, and the floor was all the same color. Luckily, Joe managed to get the first coat of polyurethane down for protection.
The third day saw more coats and a final coat of polyurethane as the last floor protection.
You can see the after picture, and since we did this floor a while ago, we have been back once to give it a touch-up, and it still looks great.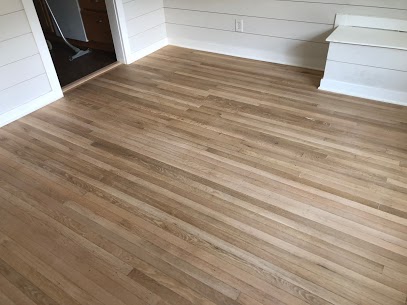 Joe Carfagno is the owner of Extreme Floor Care, and he does your job and offers lots of floor care tips. Any customer such as this client who follows his advice can keep their floor in good condition for years.
Joe is the very best in the industry, and he is very proud of every piece he does. The floors he deals with all come out terrific, and the one here is no exception where the client was pleased!
Extreme Floor Care is a business where the owner does the job, is comprehensive insurance covered, and compels workers. Call us today at 609-272-9173 or visit our website at https://www.extremefloorcare.com/index.html
Extreme Floor Care has been in business for 20 years. On several occasions, the prestigious Super Service Award receiver in all three hardwood categories - refinishing, installation & cleaning on Angie's List.
We serve South Jersey, mainly concentrating on Atlantic County and Cape May County.
If you don't want pre-finished, we also install raw hardwood floors, refinish and stain them, and do hardwood floor repairs.
At Extreme Floor Care, we put customer satisfaction; first, our company has integrity and is dependable.
Many people have concerns about allowing Avalon, NJ 08202 hard floor contractors in their homes when they aren't there; when you hire us, you can be confident that your belongings are cared for, so your home is secure.
We will always make sure everything is locked up and secured. We do NOT hire sub-contractors or day laborers. We will always be the company where the owner does your job.
To ensure you have the best experience in floor repair in Avalon, NJ 08202., you can contact Extreme Floor Care direct or call us today at 609-272-9173, and one of our professionals will help you with questions regarding hardwood floor refinishing or hardwood floor repair.
Hardwood flooring deserves the care and attention Extreme Floor Care offers to every customer.
You can also see positive reviews on Yelp for an idea of what you can expect this year with the best in the business carrying out your hardwood floor finishing.