Happy Tuesday, and welcome to another edition of "Before & After: Cleaning Pics of the Week."
This week's Before & After photos come courtesy of Joe Carfagno, owner of Extreme Floor Care, a carpet, upholstery and tile & grout cleaning company based in Egg Harbor Township, NJ.
Extreme Floor Care offers a number of cleaning packages tailored to their clients' needs, including a "green package" for clients with allergies. They also offer free estimates through their website. In addition, their regular clients get every other cleaning FREE, which is an amazing value (and incentive)!
This week's before and after photos concern a well-trafficked bedroom carpet in Ocean City. While this carpet doesn't have any particularly extraordinary staining, it shows how much daily wear and tear can impact a carpet's appearance–and indeed, affect the look of the whole room. The dingy carpeting in this bedroom makes all its furnishing look much less attractive then they actually are.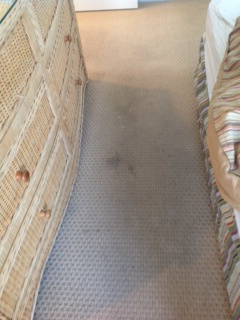 So, can Extreme Floor Care remedy this situation? Find out
here: