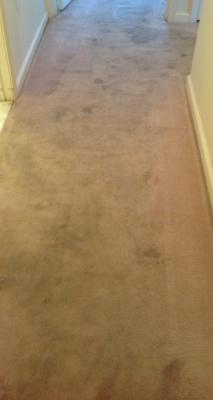 For maintaining homes, some things may be left as it doesn't appear to matter too much compared to other things.
Carpet cleaning is one such area, yet it can have more impact on family health than you may realize.
It doesn't take too long for allergens and dust mites to settle in your carpet, and when these become airborne, anyone with breathing issues can suffer. Besides this, when you use such companies as Extreme Floor Care to deal with dirty carpets or hardwood floor refinishing, you will get the best results.
Why You Need Egg Harbor Township Carpet Cleaning
If you clean your carpet following manufacturers' recommendations, you can extend your carpet's life by a considerable amount.
More than this, but you may be shocked to read the fine print on your paperwork; you can void your carpet warranty if you don't clean them with a professional carpet cleaner every 12 to 18 months.
The thing is, how you clean your carpets, and you can see in the pictures here, there was no way this customer was inside her warranty, and not only that, she was considering ripping up her carpets.
It wasn't all the owners doing as there were leaks, and even I wasn't sure Joe could get the carpets clean. Joe is the owner who does your job, yet there are limits.
Luckily, Joe being among the best, he tried his best, and you can see the fantastic results. Sometimes it surprises me how he accomplishes what he does. When we cleaned this carpet, the homeowner would be away, so I told her I would send her pictures of them as they were being cleaned.
The homeowner was thrilled because she was sure she'd have to buy new carpets. After cleaning her carpet, she asked us right there to carry out tile and grout cleaning in the kitchen and one of her bathrooms, which also came out amazing,
At Extreme Floor Care, we always provide FREE in-home estimates and will be honest if we think the carpets can't be cleaned and provide 100% satisfaction guaranteed or it's free.
When we clean carpets, everything gets pre-treated and then cleaned. You will never pay more than what you are quoted.
There are no hidden charges, no bait and switch tactics like other companies do. If the price sounds too good to be true, then it is. You will get what you pay for.

Extreme Floor Care Customer Services
We love making sure all of our clients are thrilled with their jobs because we take great pride in our work. You can call Extreme Floor Care for FREE in-home estimates and advice 7 days a week from 8 am to 10 pm at 609-272-9173.
You can also visit our website at www.extremefloorcare.com for more before and after projects we have done; look under the article's tab. You can also look at the video's tab and see the owner sanding a floor. We also provide a consumer awareness guide to read about hardwood floors on our main web page.
Angie's List announced that Extreme Floor Care just won the prestigious Super Service Award in all 3 hardwood categories - refinishing, installation & cleaning! You can now go on Angie's List and become a FREE member and check out our testimonials there and on YELP.
Check our reviews on Angie's List announced Extreme Floor Care just won the prestigious Super Service Award in all 3 hardwood categories - refinishing, installation & cleaning! The categories we have won for several years.
You can also see positive reviews on Yelp for an idea of what you can expect this year with the best in the business carrying out your hardwood floor finishing.