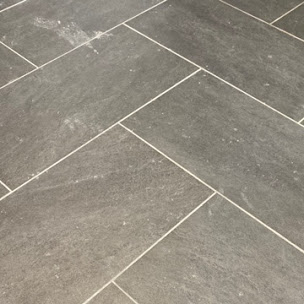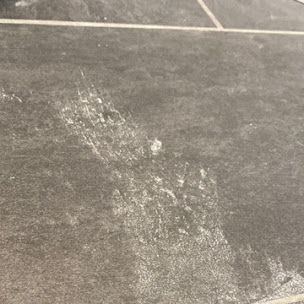 It's not just hardwood floors we have to deal with, we also get asked to do carpets, and as you can see here with the before pictures of some ceramic tile, we were asked to clean tile and grout for a customer in Margate. It was a newly built house with painters carrying out some work and were not the most careful. There was much more paint dotted about than you can see in the pictures.
Joe Carfagno is the owner doing your job as any client will find, and he is the best at what he does. Joe has spent countless years becoming a master in hard floor refinishing, carpet cleaning and of course caring for ceramic tiles or stone flooring, among others.
Although it could be easy for Joe to clean the floor and call it a day, however, as he does with all clients, he makes sure they understand how they can care for their floors regardless of flooring materials.
The cost of this floor to fix wasn't too much, yet the information Joe gives to customers is something you can't put a price on. It is the little things that keep customers coming back.
We don't hire subcontractors, and regardless of the task, it is the owner who does your job. For this reason, you can often find that customers are not keen on leaving Margate, NJ 08402 flooring contractors alone in their home.
When they hire Joe and his helpers, all clients know their home is in good hands as Joe has his reputation to uphold. He makes sure to lock everything if he leaves before the owner arrives back at the property.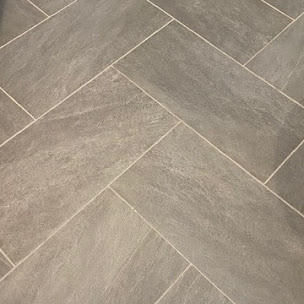 Extreme Floor Care Tile & Grout Cleaning Margate, NJ 08402
Not only does Extreme Floor Care refinish hardwood floors, but we carry out the best tile and grout cleaning in the region.
We put client satisfaction at Extreme Floor Care; first, our business has credibility and is reliable; that's why Joe Carfagno, the owner of Extreme Floor Care, does your job; he's the best at what we do. Every time you get quality results.
To ensure you have the best experience in floor repair in Margate, NJ 08402, you can contact Extreme Floor Care direct or call us today at 609-272-9173, and one of our professionals will help you with any questions regarding hardwood floor refinishing or hardwood floor repair.
Ceramic tile deserves the care and attention Extreme Floor Care offers to every customer.
Check our reviews on Angie's List announced Extreme Floor Care just won the prestigious Super Service Award in all 3 hardwood categories - refinishing, installation & cleaning! The categories we have won for several years.
You can also see positive reviews on Yelp for an idea of what you can expect this year with the best in the business carrying out your hardwood floor finishing.