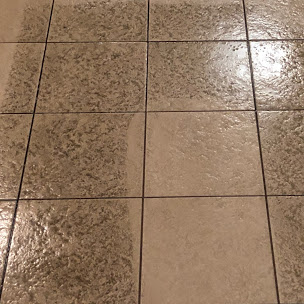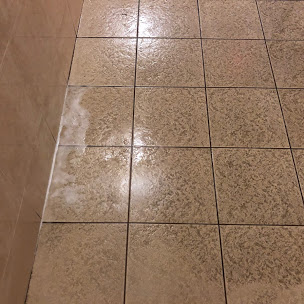 This is a tile floor we did in Brigantine, NJ 08203, on the first floor of a home where a lot of traffic happens. It was a brilliant idea to install tile on this level because of the sand and the traffic, but it should be cleaned professionally every couple of years.
It took Joe Carfagno, the owner who does your job while getting deep into the tile's ridges. There was a lot of dirt and grime, and God knows how unhealthy it was deep down.
Tiles with texture became enormous a couple of years ago. However, the biggest problem is when you clean those floors yourself, the dirty water you are moving around not only gets your grout dirty, it lays in the lower parts of the tile as the water dries.
It is here you see the pitting on the tile look dirty. You need professional tile and grout cleaners Brigantine, NJ 08203 to clean these with industrial-strength machines.
If you don't take care of your tiles, it doesn't take long for them to get dirty as you can see in the first picture. The longer it goes on, the faster it gets messier and the harder it is to clean.
Get your tile and grout cleaned today and bring your floors back, the beauty that they were when you had them installed.
The homeowner was THRILLED with the outcome. They forgot what it had looked like when they installed it. Call us at Extreme Floor Care for a free in-home estimate today.
Our unique power cleaning system combined with an array of powerful cleaning agents and various methods can leave your tile and grout in like-new condition.
Once cleaned we can seal your grout, making it resistant to dirt and liquids to keep it clean and new looking for years to come. At Extreme Floor Care, we put customer satisfaction; first, our company has integrity and is dependable.
Many people have concerns about allowing Brigantine, NJ 08203 hard floor contractors in their homes when they aren't there; when you hire us, you can be confident that your belongings are cared for, so your home is secure.
We will always make sure everything is locked up and secured. We do NOT hire sub-contractors or day laborers. We will always be the company where the owner does your job.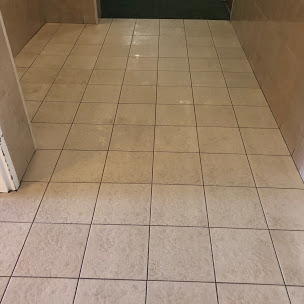 To ensure you have the best experience in floor repair in Avalon, NJ 08202., you can contact Extreme Floor Care direct or call us today at 609-272-9173, and one of our professionals will help you with questions regarding hardwood floor refinishing or hardwood floor repair.
Hardwood flooring deserves the care and attention Extreme Floor Care offers to every customer.
You can also see positive reviews on Yelp for an idea of what you can expect this year with the best in the business carrying out your hardwood floor finishing.