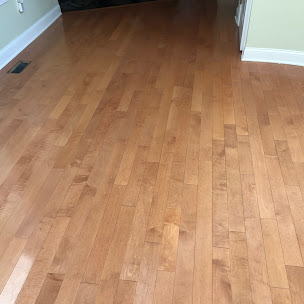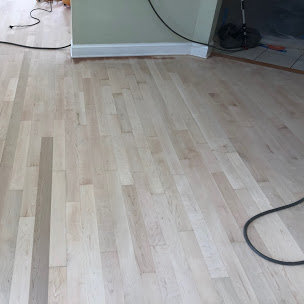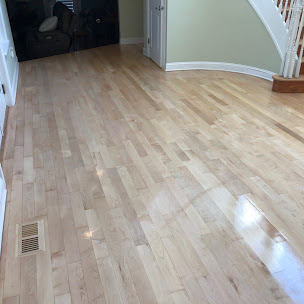 This is a hardwood floor we just refinished in Avalon, NJ 08202. The pictures above are the before, sanded raw and coated (shiny because wet). The homeowner wanted to go with a less formal look when he called us to look at his floors.
This is a prefinished maple floor that we sanded raw and went with a natural seal coat and two coats of a Vermont water-based polyurethane.
The floors came out gorgeous, and the client was thrilled! Extreme Floor Care is the company where the Owner does your job, is fully insured, and workman's comp. Call us today at 609-272-9173 or visit our website at https://www.extremefloorcare.com/index.html
Extreme Floor Care not only refinishes hardwood floors, but we also install all types of prefinished hardwood floors, including Mirage, Mannington, Armstrong, and Bruce wood floors. If you don't want prefinished, we also install raw hardwood floors, refinish and stain them, and do hardwood floor repairs.
At Extreme Floor Care, we put customer satisfaction; first, our company has integrity and is dependable; that is why the Owner of Extreme Floor Care, Joe Carfagno, is doing your job; he is the best at what we do. You will get quality results each and every time.
Many people have concerns about allowing Avalon, NJ 08202 hard floor contractors in their homes when they aren't there; when you hire us, you can be confident that your belongings are cared for, so your home is safe and secure.
We will always make sure everything is locked up and secured.
We do NOT hire sub contractors or day laborers. We will always be the company where the Owner does your job.
To ensure you have the best experience in floor repair in Avalon, NJ 08202., you can contact Extreme Floor Care direct or call us today at 609-272-9173, and one of our professionals will be able to help you with any questions regarding hardwood floor refinishing or hardwood floor repair.
Hardwood flooring deserves the care and attention Extreme Floor Care offers to every customer.
Check our reviews on Angie's List announced Extreme Floor Care just won the prestigious Super Service Award in all 3 hardwood categories - refinishing, installation & cleaning! The categories we have won for several years.
You can also see positive reviews on Yelp for an idea of what you can expect this year with the best in the business carrying out your hardwood floor finishing.