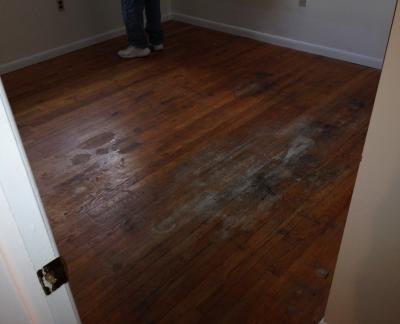 The pictures you see here are of a bedroom floor that was in a terrible state.
The client was given our number by a close friend who had seen the state of the floors and was sure that Joe Carfagno, the owner who does your job, was the only person who could tackle such a job.
I met with the couple who'd just bought this home and wanted to do some remodeling and were shocked at the floor condition in the bedroom.
When they were ready for us to come in, they chose not to paint the floor and instead leave it natural with a satin finish on the polyurethane. You have the choice of satin, semi-gloss, or glossy as a client.
On day one of the project, we sanded the floor three times before applying a natural seal coat. We added our first coat of polyurethane after the seal coat had dried.
We went out for the day and returned the next day to screen the floor and apply the final coat of satin polyurethane.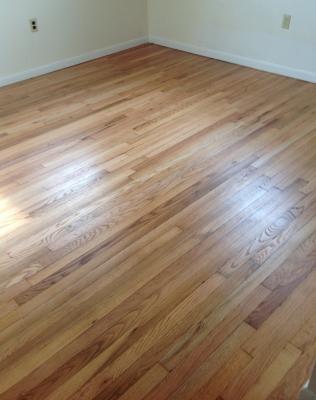 The floor is dry the next day so that you can move on it, but you won't be able to bring your furniture back for another 72 hours. It's important to remember to put pads on any moving furniture at the beach and change the pads often.
On Sunday, after we finished the job, the clients came down to see the floors, and I called them that night to see what they think, and the husband said, "his wife was giddy and couldn't believe they were the same floors."
All these photos show how lovely their oak floors turned out. This job turned out beautifully, and our client was thrilled with the results. Since we take great pride in our work, we enjoy making sure that all our clients are delighted with their jobs.
Extreme Floor Care Floor Refinishing Guarantee
If you have flooring in the same sort of condition, you can quickly contact Extreme Floor Care in Egg Harbor Township, NJ 08234, for a FREE in-home estimate and advice seven days a week from 8 am to 10 pm 609-272-9173.
You can also visit our website at https://www.extremefloorcare.com/index.html for more before and after projects we have done, look under the articles tab.
We serve South Jersey, mainly concentrating on Atlantic County and Cape May County. Our New Jersey Contractors license is at the bottom of our main web page.
Angie's List announced that Extreme Floor Care just won the prestigious Super Service Award in all 3 hardwood categories - refinishing, installation & cleaning! You can now go on Angie's List and become a FREE member and check out our testimonials there and on YELP.
Check our reviews on Angie's List announced Extreme Floor Care just won the prestigious Super Service Award in all 3 hardwood categories - refinishing, installation & cleaning! The categories we have won for several years.
You can also see positive reviews on Yelp for an idea of what you can expect this year with the best in the business carrying out your hardwood floor finishing.