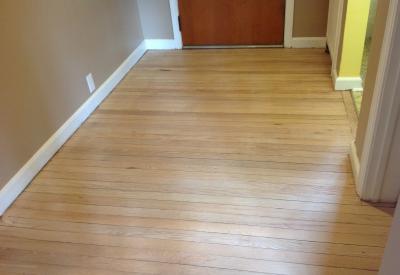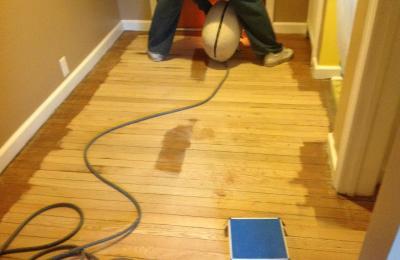 Angie's List can be a great place to promote your company and also get accoladed for the hard work you put in.
Luckily, Extreme Floor Care has benefited from both. The floor you see here is an oak hardwood floor, and it came out beautiful.
This Egg Harbor City, NJ 08215 client got our name from a referral and is also Angie's List client. This was the foyer when the hardwood floor was sanded raw, and once the hardwood floor refinishing project was done.
I met with them to look at their floors and was told another company had offered a quote. I explained the lack of issues we have as it is Joe Carfagno, the Owner Who Does Your Job. She was surprised, and after Joe had finished, she could see why we have such an excellent reputation.
He said the other company was talking about using a chemical process on the floor and just coating it, and the floor would look" FABULOUS", no pun intended.
Extreme Floor Care Hard Floor Refinishing Process
I explained that a particular process would not change his floors and would just be putting a shine on it. The client did some research and looked up the testimonials for my company and the other company and saw that the process he talked about some clients were not happy with.
As you can see, it took full sand to a raw condition to get past all the deep grained markings. When you have an old hardwood floor, the only way to bring it back to its natural beauty is to have the hardwood floor refinished.
This job took us two days, the first sanding and applying the first coat of clear polyurethane. Day 2 was all about applying the final coats and clearing up.
You will see in these pictures their red oak floors came out beautiful. This job came out great, and our client was thrilled with the outcome. The customer was delighted and already had us booked to carry out the same on her mother-in-law hardwood floors.
We love making sure all of our clients are thrilled with their jobs because we take great pride in our work. You can call Extreme Floor Care for FREE in-home estimates and advice 7 days a week from 8 am to 10 pm at 609-272-9173.
You can also visit our website at www.extremefloorcare.com for more before and after projects we have done; look under the article's tab. You can also look at the video's tab and see the owner sanding a floor. We also provide a consumer awareness guide to read about hardwood floors on our main web page.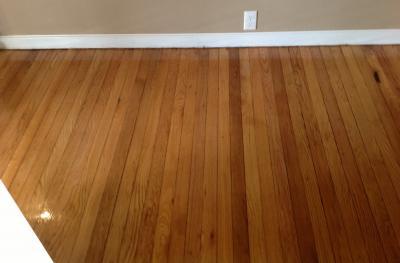 Extreme Floor Care Customer Services
We serve South Jersey, mainly concentrating on Atlantic County, Cape May County. Our New Jersey Contractor's license is at the bottom of our main web page. If you hire us to do your job, our insurance company will email you a copy of our insurance and workmen's comp.
As a client who hires us to refinish or install your hardwood floors, you will get pictures of the entire process of the work as it is being done; that is a personalized touch that none of our competitors provides; we do this so if you have questions they can be addressed immediately.
Extreme Floor Care not only refinishes hardwood floors, but we also install many pre-finished hardwood floors, including Mirage, Mannington, Armstrong, and Bruce wood floors. If you don't want pre-finished, we also install raw hardwood floors, refinish and stain them, and do hardwood floor repairs.
Angie's List announced that Extreme Floor Care just won the prestigious Super Service Award in all 3 hardwood categories - refinishing, installation & cleaning! You can now go on Angie's List and become a FREE member and check out our testimonials there and on YELP.
Check our reviews on Angie's List announced Extreme Floor Care just won the prestigious Super Service Award in all 3 hardwood categories - refinishing, installation & cleaning! The categories we have won for several years.
You can also see positive reviews on Yelp for an idea of what you can expect this year with the best in the business carrying out your hardwood floor finishing.